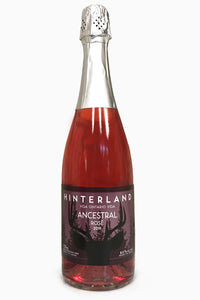 It's our 10th vintage of Ancestral. To celebrate we would like to offer you our newest offering in a clear bottle, which also happens to show off the lovely pink hue.

Made with the Gamay noir grape, the 2019 Ancestral is deliciously delicate, with tart strawberry & rhubarb on the nose and palate. Reflective of the cool and wet vintage, the Gamay came in at a low pH resulting in a slightly dryer Ancestral. A lovely hue of pink, the Ancestral is truly a reflection of the 2019 vintage. 
Named for the original way of making sparkling wine, the Ancestral is produced using similar techniques first employed by the monks of Saint-Hillaire abbey in 1531. The carbon dioxide is captured during the primary fermentation producing a lightly sparkling, off-dry, delightfully fruit-forward wine.
$22.21 + HST + Bottle Deposit = $25.30
(You're not seeing things, we've lightened the label a touch. You're so observant!)