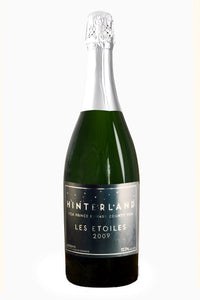 1.5L
If mother nature asked us what kind of vintage we would like for 2020, we would ask for the 2009 vintage. It remains our best vintage to date.
2009 was a very special year for us – although we released wines from 2007 and 2008 - we really consider 2009 as our first vintage. It was our first year making wine in our own building, with our own press and had complete control over the entire winemaking process. It was also the first year we bottled magnums, which we have finally decided to disgorge and release to you.
The weather in 2009 was perfect – if there is such a thing as a classic Prince Edward County vintage this is it. Never too hot – always a light breeze coming of the lake and a very long and slow ripening period. This was also the latest harvest to date, we began hand picking on October 6th and continued until October 10th. Even the primary fermentations were perfect. Aromas of grapefruit and citrus blossoms wafted throughout the winery for weeks.
Everything about the vintage, the fermentations and the resulting wines from the 2009 vintage were magical.
The bottling date was July 16th 2010 and the magnums have not moved since, resting on their lees for the last 7 and a half years.  We tasted the wine now and again, and always decided against disgorging until now, owing to the wine's amazing structure and incredible acid backbone. These wines are so special to us we wanted to release them at their optimum which is why we are encourage you to age them for at minimum another 6 months before drinking. We recommend you wait several years before opening.
The regular bottlings of the 2009 vintage received rave reviews. We intend to give the magnums a very light dosage (no more than 0.5-3g/L) with minimal sulphur so the we can best express what we believe our vineyard and the 2009 vintage gave us.
There are only 150 available.
The Rosé and Les Etoiles come from different pressings of the same fruit, and of course more of the Pinot Noir went to the Rosé. The grapes were grown on our farm in Hillier, Prince Edward County.
Les Etoiles 2009 Method Traditional
60% Chardonay
40% Pinot Noir
12.0% alcohol
There is no minimum order required for this special wine!